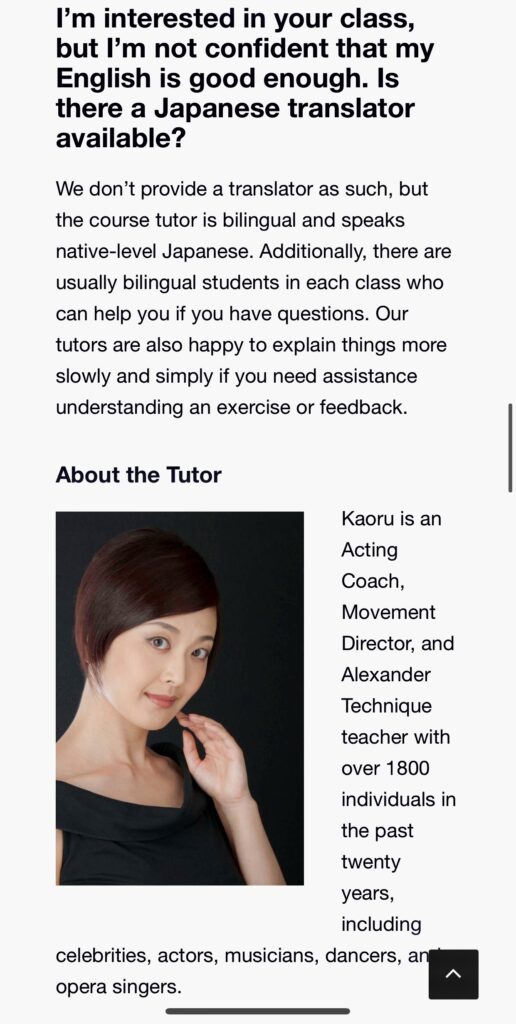 In November, I will be teaching acting classes in English at ELFS Japan! Every Wednesday, 19:00-21:30!

Our Emotion is like a driver in a vehicle.
You can reach your destination faster and safely or have a bumpy ride or fast-speeding turns.
Depending on the driver, you may get lost, fail to reach your destination, or be involved in an accident.

Emotions are essential in every genre of our work; they are valuable to actors and important to performances.
Although we all experience and feel emotions, even the most experienced actors can wonder, such as, 'I know how he/she feels, but not quite there yet…', 'I'm not sure why he/she does/says A and B.'

This 5-week class explores a wide range of emotions to bring the best out of your emotional expression for your work. There is no need for 'being emotional' for the sake of being in touch with your characters' emotions.
The class aims to extend your awareness and choices in acting so that you can fully express the character's emotions under given circumstances.

If you can 'fully express a character's emotion' and communicate better with clarity, you will make a huge difference and influence the quality of your work.

Through a series of elaborate exercises, you will be well prepared to play your characters and interact with each other with more attention and precision when required.

Each class includes some exploration and preparatory exercises to ensure you are ready to experiment and learn for your benefit. Feedback is provided, and further discussion will be available to advance your skills and potential for your future career and projects.

By the end of the course, you will be more confident with your improved body and mind awareness and be able to approach any characters or text more confidently and ready to bring the best out of yourself.

Class Progression
・Neutrality- Body and Tension
・Exploration of Combined Emotion and Use of Imagination
・How to Practice through Body and voice and to Expand the range of Emotion
・Practical Application to your choice of text, Dealing with tension and release
・Better control and how to improve your senses and strive for your performances
All five days of the course include short, limber and preparatory exercises to ensure you are in a better frame of mind and working towards a responsive yet coordinated body.

We aim to physically and mentally extend the actors' ability and imagination.
At the end of the course, you will have a better sense and understanding of your craft, especially sensorial connection to Emotion through body, voice and text that empower you and support your future projects and career development.

FAQ
Q. I haven't taken any Movement or formal Acting classes before. Can I join this class?
A. Yes. Suppose you want to improve yourself or seek to change the direction of your career. In that case, you will hugely benefit from acquiring the knowledge and practical skills through this series of classes. However, if you are still worried that this course will be too advanced, you can join other introductory classes to enhance your understanding of your work. Meanwhile, you can supplement it with personal training or private lessons with her or other teachers. If you want to discuss your concerns, please email the ELFS or tutor directly. We are happy to guide you through!

Q. If I miss a class, can I make it up later?
A. If you know when booking the class that you will be absent during one specific date, you can make up for the session the next time the course is repeated (introductory courses repeat every 5 to 10 weeks). If you miss a class due to a severe emergency, you can make it up the next time. However, if you miss a class for personal reasons, the course can unfortunately not be made up.

Q. I am not a native English speaker and worry that my language level will not be enough. Can I still join this course?
A. Absolutely! We have many students who are not native English speakers. The classes are a great place to become accustomed to working in English internationally while improving your acting skills.

Q. I'm interested in your class, but I'm not confident that my English is good enough. Is there a Japanese translator available?
A. We don't provide a translator, but the course tutor is bilingual and speaks native-level Japanese. Additionally, there are usually bilingual students in each class who can help you if you have questions. Our tutors are also happy to explain things more slowly and simply if you need assistance understanding an exercise or feedback.

◾️About the Tutor
Kaoru Kuwata
Kaoru is an Acting Coach, Movement Director, and Alexander Technique teacher with over 1800 individuals in the past twenty years, including celebrities, actors, musicians, dancers, and opera singers.

Her journey in the performing arts began during her childhood, and she received training in music, dance, and theatre. After graduating from Toho Gakuen Art College for Drama and Music, she furthered her education by obtaining a Drama and Theatre Arts degree from Goldsmiths, University of London. She pursued qualification as an Alexander Technique teacher, accredited by the Society of Teachers of the Alexander Technique, UK.

While studying in London, Kaoru made history as the first and only Asian student in the inaugural MA Movement Studies cohort at the Royal Central School of Speech and Drama, where she developed her expertise in Movement, Direction, and Pedagogy, expanding her passion for Actor's process. Following eight years of education in Europe, she became the youngest teacher at Toho Gakuen College for Drama and Music, the National Theatre Drama Studio/Opera Studio, and other esteemed institutions.

Kaoru teaches private lessons and group classes in the Alexander Technique, Rudolf Laban's method, and various Acting techniques. She is recognised for her dedication to professional development, as evidenced by her two certifications from the Japan Harassment Counsellor Association in 2022 as a Harassment Counsellor/Advisor.

A devoted professional, Kaoru is eager to advance her expertise globally and welcomes collaborations with like-minded professionals.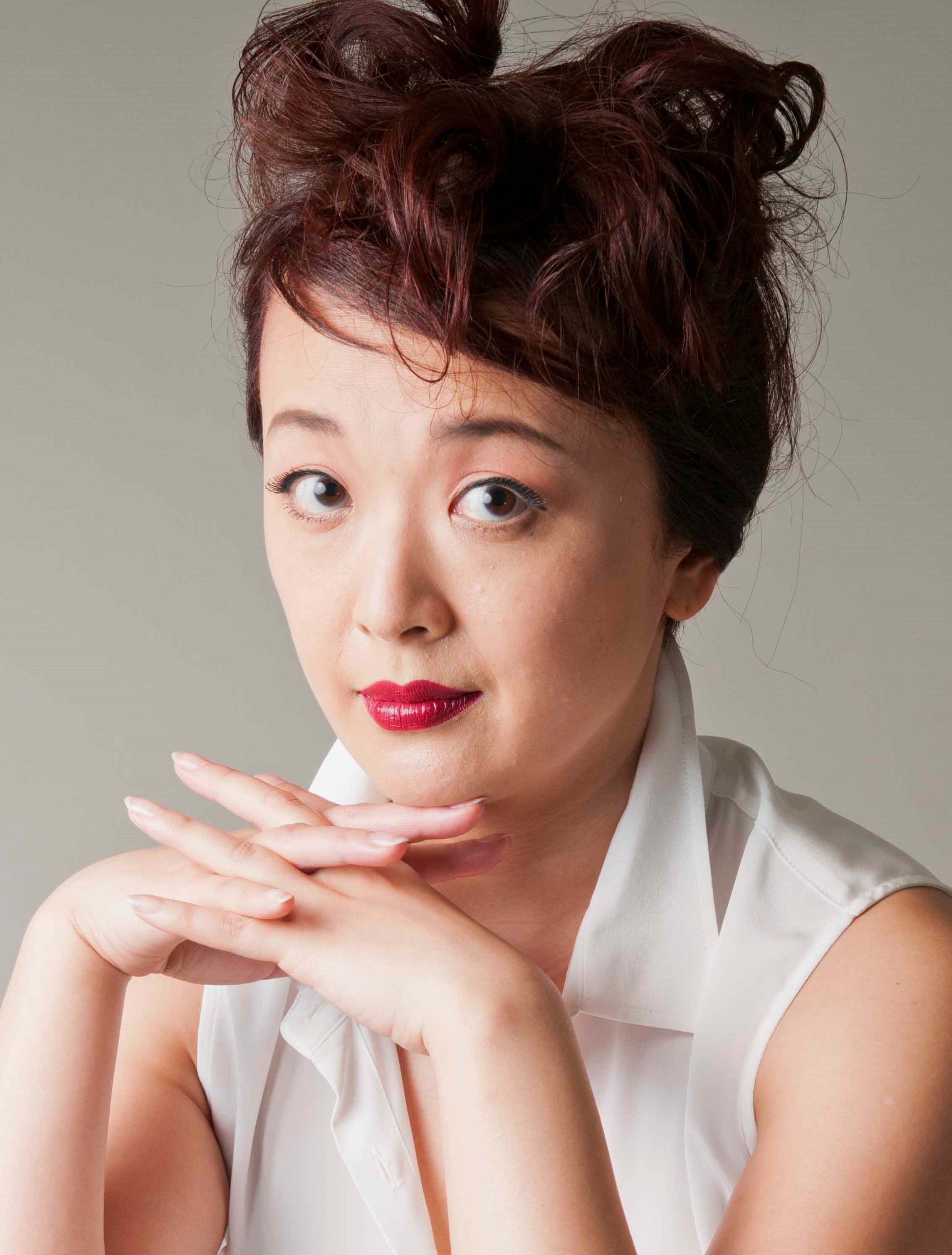 演技コーチ/STAT認定アレクサンダー・テクニーク指導者/ムーヴメント指導・演出・振付/大学講師/スピーチ&プレゼンテーションコーチングSTAT certified Alexander Technique teacher, mSTAT, Movement Teaching/Acting Coach/Movement Direction/Speech and Presentation Coaching/Personal Coaching